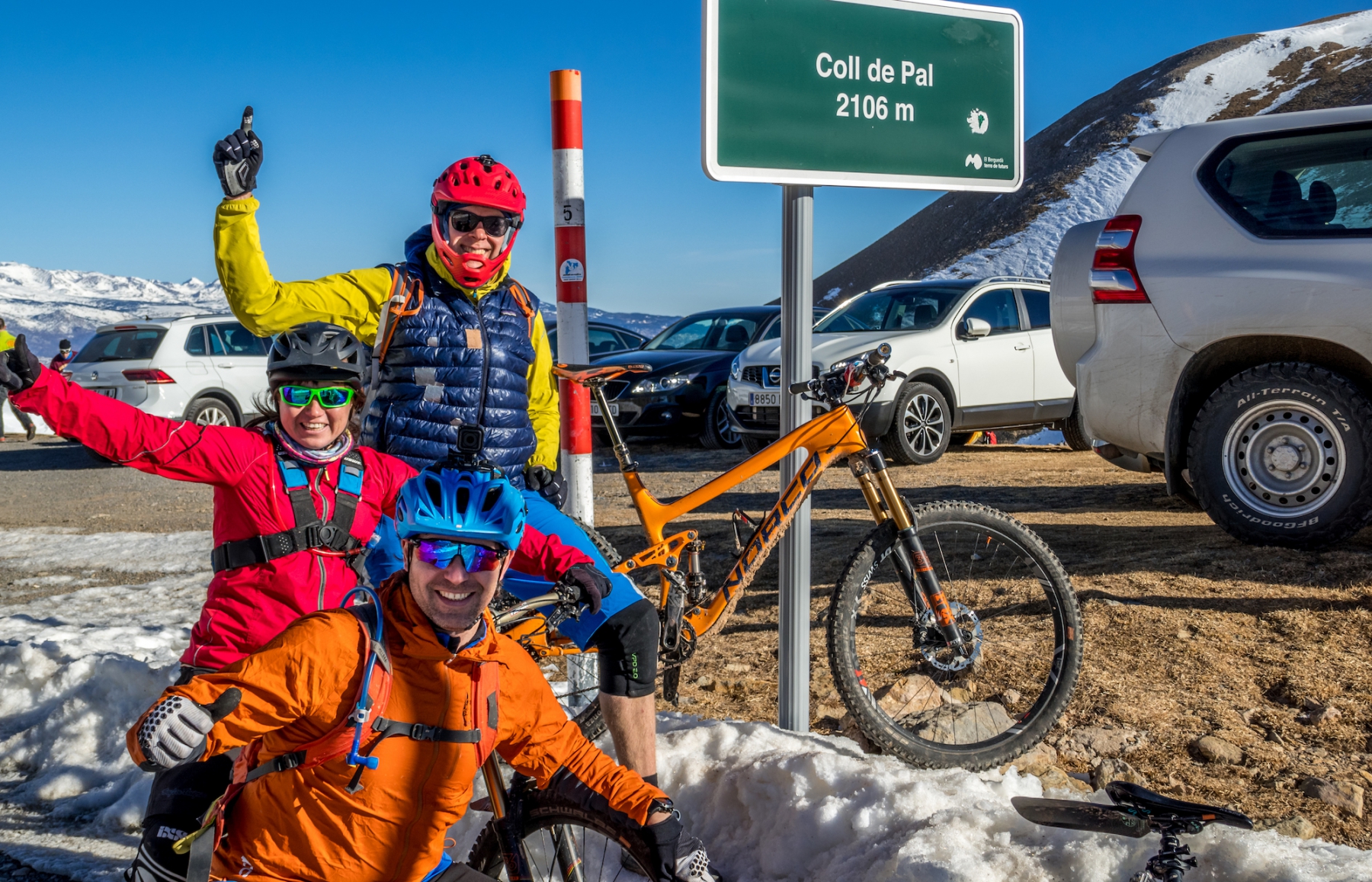 We have self guided routes from 1 to 5 days. The multi-day packages include routes, uplifts, transfer of luggage between hotels and our support. Read more about our 3-day and 5-day package. The single day routes include one uplift and a GPX-track.
Since many of our visitors come with a van or doing a road trip visiting many areas we have prepared a selection of self guided routes that includes shuttle up and then a big day out riding. This gives you the chance of saving hours of uphill and focus more on the part we all love more – the ride down.The routes we have prepared are routes we do regularly and that we make sure are in good shape for our clients. We will give you recommendations based on your riding level and the shape of the routes. We've also tried to price it as modestly as possible for the work we put into maintaining the trails and the cost of maintaining our vans.
Please remember that area of Berga is not like Ainsa or Finale Ligure. The trails are not marked for biking and lot less adapted as well. You are 100% responsible for your safety and your rescue in case of an accident. Please read our document with General Information for self guided riding – download.
And finally – nobody is getting payed for keeping them in shape for biking. We at Berga Enduro, Pär and Félix, are the two guys in that work hardest to keep the trails open. We spend hundreds of hours and euros to do this. By riding with us you help us keeping on working with our trail network.
Please read about our Trail Maintenance efforts. Thank you!
Rasos Direct
One uplift and some pedalling gives a fantastic 2000 vertical meter ride down. Video of some of the trail. It's also easy to extend the loop with for example the superb trails of Rusi and TT 78.
Catllaràs South
This fantastic area is home to some massive rides on just perfect trails – just check out this video for example.
Maximum 4 people since we can't make it up here with a trailer.
Sant Julia Dreams
Around the village of Sant Julia we have some amazing and fairly hard trails. We take you up as high as possible and then you get an amazing day of riding in this wild corner of our playground. Trails include El Grapissot, Coll Pan, La Ribera and the classic The Firefighter.
Essential Vallcebre
A day to access the essential and most emblematic trails of Vallcebre. You'll ride a combination of some of the best trails of the area – have a look at these videos to get an idea what awaits!

And even more…
These are some of our routes. Interested in more information? Contact us: e-mail or WhatsApp +34 616 23 37 45