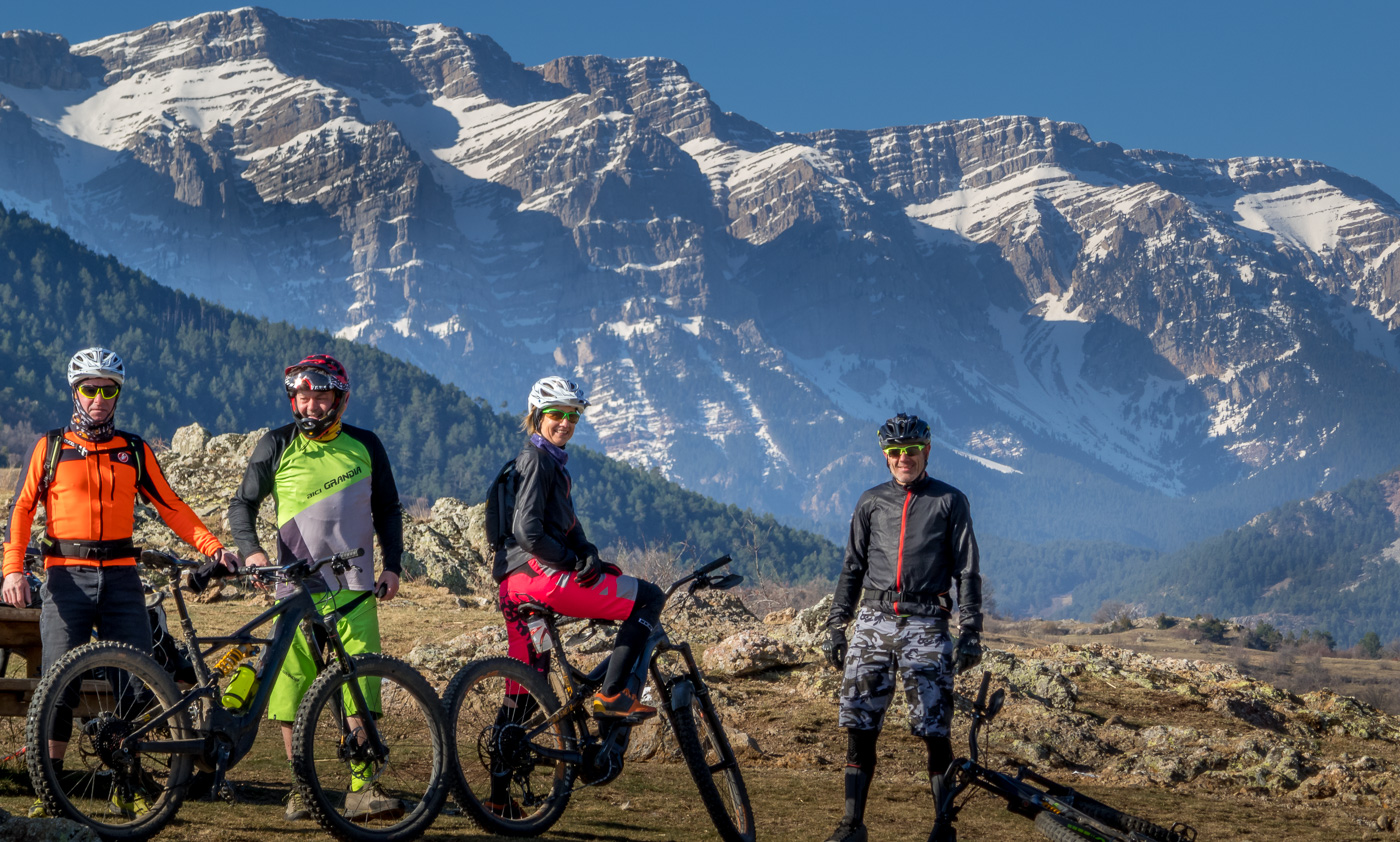 Available: April to November
Minimum group: 2 riders
Maximum group: 15 riders
Want to get a real feel of the biking in the Berga area but prefer to ride with just your buddies? This all-mountain tour of our wild mountains give you a sample of everything this area has to offer – from long flowtrails to technical alpine riding.
You stay in two hotels and the last night in a beautiful mountain hut. 4 of the days you start with long shuttle rides giving you a lot of bonus riding! You navigate with the help of a roadbook and GPS.
5 day trip give a minimum of 7000 vertical meters (~25000 feet) of downhill riding.
If you have less or more days, let us know and we adapt the package for you.
This is an alpine enduro tour where you are expected to be self supported with good riding skills and be able to take care of minor mechanical issues and know what to do in case of an accident. You are riding in the mountains, not in a bike park. All of the trails are 100% natural. There will be parts where you have to push you bike and parts of the trail that you have to walk down a difficult section. There is not always phone coverage. With that said, we always try to be available to assist you in case of problems and we have bike store that we work with that
We will supply you with the GPS-tracks (GPX-format) before your arrival, our experience is that each rider knows what system works best for them when it comes to navigation.
This route works perfect to do with an e-bike as well, this will give you time and energy to do even more riding. Bikes can be charged at the hotels (also in the mountain hut).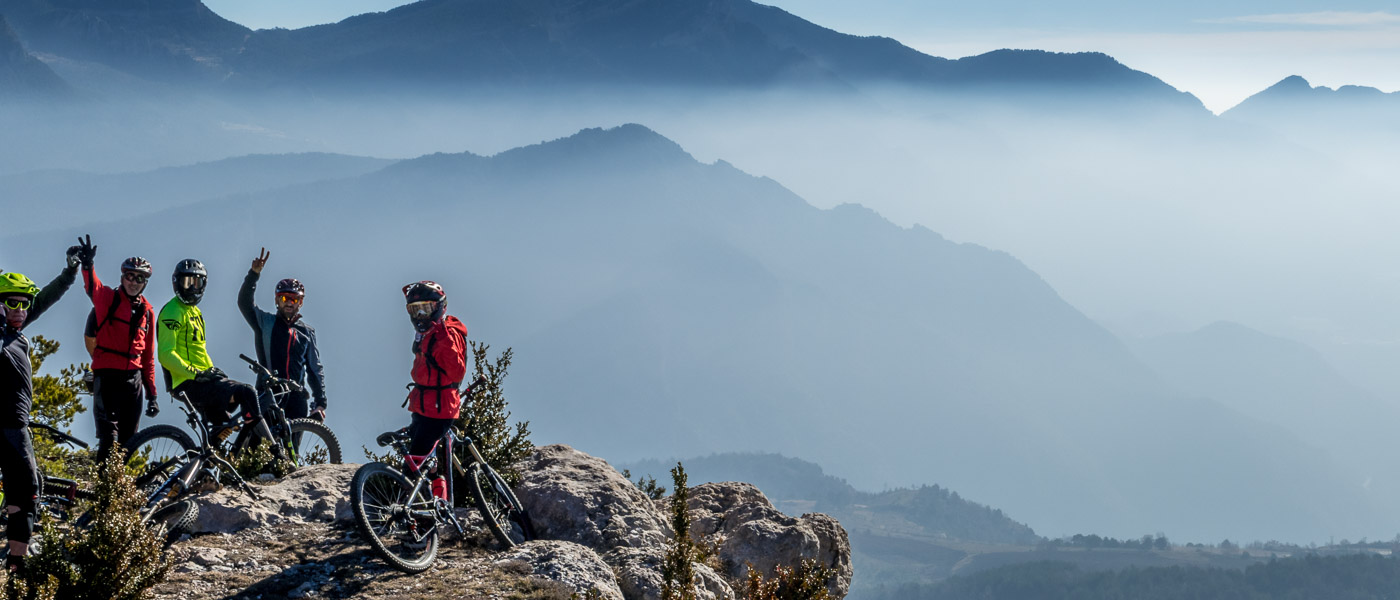 Day 1 – Arrival
Arrival to Berga
Hotel Berga Park
Day 2 – Rasos de Peguera to Berga
We meet at 09.00 and give all the information.
Uplift to Rasos de Peguera (1900 masl).
Ride down to Berga passing some of the classic trails like Serra de Corbera, Els Tossals and Molinot. Once you reach the village of Avià you can choose to add more riding or head back to your hotel.
Dinner in town on your own account, for example the excellent Bar del Pepe.
Day 3 – Rasos de Peguera to Guardiola de Berguedà
After breakfast you check out of the hotel and have the bags ready to be transfered.
At 09.00 we pick you up at the hotel and give you an uplift to Rasos de Peguera (1900 masl).
Big day combining trails all the way to the village of Guardiola de Berguedà. Today you'll pass an abandoned village and ride a wide variety of trails, from steep and grassy to fast flowtrails and the famous cliff band of Cingles de Vallcebre. Again, if you have power left in your legs and want more riding there is no problem to add any of the classic trails of the area, for example the amazing Cap Deig.
When you arrive to your hotel in Guardiola de Berguedà you luggage will be waiting there.
Check in and then dinner in the hotel (the best restaurant in the village).
Hotel: El Recó del Avi
Day 4 – Alpine adventure
At 09.00 we pick you up for a superb alpine adventure with a first uplift to 2100 masl.
From here you do a downhill north before climbing to 2500 masl. From here there is a massive 1800 vertical meter drop down to you hotel.
Note! In late autumn/early spring parts of this trail is not possible to do due to snow, you then do a "shorter" version and then can add more riding in the valley at the end of your day.
Dinner in the hotel.
Day 5 – Catllaràs south face
After breakfast you check out of the hotel and have the bags ready to be transfered.
At 09.00 we pick you up and give you a shuttle into the magic area of Catllaràs.
We drive you up as far as the roads allow (this depends a lot on the weather and if they are doing forestry work).
You start with a loop with a beautiful downhill before pedaling and finally push your bike up to the second highest peak in the area, El Pedró. From here you do a combination of routes with a lot of flow down to the mountain hut where you will sleep. If you still have energy there are some great trails that you can do straight from the hut.
Dinner in the mountain hut.
NOTE! The mountain hut is a lot more rustic than your hotels, here you share one big room. If you would prefer to stay in a hotel and not in the more basic mountain hut there this can be arranged.
Day 6 – Catllaràs north face
Breakfast in the mountain hut.
The biking start with a 400 vertical meter climb to Collada de Sant Miquel. Here you do a superb combination of trails down to the valley. In the middle section there are two good flow trails and we recommend you do them both before hitting the superb final trail of your stay – The Firefighter.
We will meet you meet you back in the hotel where you can shower and wash and pack your bike. Here the trip ends.
Depending on your further plans we arrange transfer to Barcelona or another night of hotel before you head home.
---
Optional extra days
If you have one or more extra days of riding we of course can add more days to your trip, for example a day around the village of Gisclareny where you do a combination of some of our best flow trails.
Prices
2 people: 595 €/person
4 people: 565 €/person
6 people: 535 €/person
8 people: 495 €/person
Price for individual room: 80 € extra (Note! In the hut you sleep in a one big dorm)
Add a guide: 250 €/day
We can arrange for bike and e-bike rental.
To guarantee the possibility to do this tour it is preferable that you contact us well in advance.
For booking inquiry, please e-mail us: info@bergaenduro.com
The trip includes
5 nights in hotel
3 dinners, 5 breakfasts
5 riding days
4 uplifts
Transfer of luggage between hotels and mountain hut
Roadbook
GPS-tracks
Available support in case of mechanical problems
Bike friendly lodging with safe storage of bikes
T-shirts with Berga Enduro Tour
Optional & extras
Pick-up and drop-off at airport
Rental bikes
Guide one or more days
Help in the mountains & bike repair (we charge only the minimum to help you get back to riding as soon as possible)